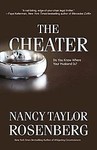 Hardcover:
320 pages
Publisher:
Forge Books (June 9, 2009)
ISBN-10:
0765319020
ISBN-13:
978-0765319029
Lily Forrester is a former prosecutor, now a Ventura, California judge, who literally got away with murder when she killed the man who raped her and her daughter a few years before. Now her marriage to Bryce Donnelly is falling apart. Lily has no idea that Bryce is a philanderer until she receives a call from the Las Vegas police informing her that Bryce has been arrested for attempted rape, even though Las Vegas was not on his travel itinerary.
In the meantime, Lily meets Anne Bradley at the gym and immediately likes her. Unbeknown to Lily, Anne is the owner of Alibi Connection, an internet referal company that provides alibis to adulterous men. Through her company, Anne entices, then kills them. Enter FBI profiler, Mary Stevens, who follows a string of unsolved murders to Anne. You can see where this is leading...directly to Lily's no-good husband.
Now, as a woman who has dealt with unfaithful men, I kind of got a kick out of Anne's exploits. It's good to see a woman get her revenge, but Anne's methods are way too gruesome and heavy-handed. Don't get me wrong...I'm not sympathizing with the victims; they are loathesome, insensitive boors. I've seen man-haters before but nothing like this. Anne is a real sociopath.
The plot is rather complicated and far-fetched; nevertheless, it was an enjoyable read and a good way to pass a lazy day. In fact, I'm looking forward to reading some her earlier works in which she introduced us to Lily Forrester and Mary Stevens. They are both women I would enjoy knowing in real life.
Synopsis
Nancy Taylor Rosenberg's
newest book
The Cheater
(Tor Forge) weaves the lives of three women in an intense and taut legal thriller. Lily Forrester returns from Rosenberg's
New York Times
bestsellers,
Mitigating Circumstances
and
Buried Evidence
. This time Forrester is a county judge in Ventura, California. She meets another lawyer, the charming and vivacious Anne Bradley, but their friendship shatters when Bradley accuses Forrester's husband of rape. Meanwhile, FBI agent and profiler Mary Stevens is on the trail of a black widow serial killer who lures cheating husbands to their deaths and mutilates their bodies.
The story is an intricate, psychological drama. Rosenberg's intensely psychopathic villain introduces a fascinating weapon into the arsenal of fiction thrillers: the drug Versed to sedate her victims and eliminate them in humiliating and gruesome ways. Forrester struggles with her personal demons and this plays into the hands of the serial killer. Stevens finds her professional skills tested to their limits as she pursues a murderer across a web of deceit and misdirection. The climax is not a simple consolidation of plot lines but a collision--a controlled crash that will leave the reader practically stumbling out of the wreckage, emotionally drained yet very satisfied. (You may want to smoke a cigarette afterwards.)
The inspiration to write
The Cheater
came from two incidents. First, Rosenberg was compelled to draw upon the actual story of a girl who was abandoned by her father to die along a deserted winter road. This experience, when combined with sexual molestation, could drive the victim to rationalize committing acts of chilling violence against others. Second, Rosenberg learned about alibi clubs and was convinced they'd be great plot devices to add more mystery to already suspenseful plots.
The Cheater
is the thirteenth of Rosenberg's highly acclaimed and popular novels. A prolific author, she uses her considerable research skills and her fourteen years of service as a police officer, investigator, and parole officer to build compelling and true-to-life stories. As an example of her dedication to accuracy, Rosenberg took and passed the required test to become an FBI agent.
For those interested in the character Mary Stevens, she's back at work in a forthcoming novel,
Her Daughter
, which also features Lily Forrester. Steven's previous exploits are available in
Sullivan's Law, Sullivan's Justice, Sullivan's Evidence
, and
Revenge of Innocents.

Rosenberg admits her plots are complex because she is herself a complex person. She understands the twisting and baffling nature of life and brings this awareness into her story development. As for her writing style, she hates outlining, as it stifles the fun out of the creative process. She prefers to sit at her computer and let the story surprise her as she writes.
Her advice to aspiring writers is to write the best book possible and sit on it until the economy improves. She's been working with young writers in a program called
Voices of Tomorrow
and has recently started a new offering for more serious writers using the Internet service called Go To Meeting. Interested writers should contact her through her
website
.
After living in New York and California, Nancy Taylor Rosenberg currently resides in her hometown of Dallas, Texas. She is the proud mother of a very creative family, which includes a poet and a novelist.
Contributing editor Mario Acevedo is a member of ITW and the author of the Felix Gomez vampire detective series from Eos HarperCollins. His most recent Gomez vampire adventure is Jailbait Zombie. Mario lives and writes in Denver, Colorado. http://www.marioacevedo.com