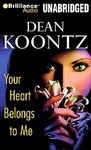 Mass Market Paperback: 384 pages
Publisher: Bantam; Reprint edition (October 27, 2009)
Language: English
ISBN-10: 0553591711
ISBN-13: 978-0553591712
Ryan Perry is 34, wealthy and in a loving relationship with Samantha. Ryan made his fortune as an internet entrepreneur with his wildly successful social networking site. He has the world on a string, until he begins to have frightening symptoms that are diagnosed as cardiomyopathy. Without a heart transplant, Ryan has no chance of survival.
It seems luck is looking after Ryan because after only a few months, a perfect match is found and he receives the operation. After a year, Ryan is healthy with no apparent signs of rejection. His future again looks bright until he begins to experience strange events in his home...a bag of white valentine hearts with the words "Be Mine" found on his pillow, a heart shaped locket found in his bedroom. There is no explanation because his house is armed with a state of the art security system. How did someone get in without his knowing it?
Then he encounters a woman who looks exactly like his heart donor who tells him, "Your heart belongs to me. I want it back."
Although it's not Koontz's best, it's suspenseful enough to keep us on the edge of our seats with a suspenseful page turner.
Synopsis
(from the author's website)
From the #1 New York Times bestselling master of suspense
comes a riveting thriller that
probes the deepest terrors of the human psyche–and the ineffable mystery of what truly makes us who we are. Here an innocent man finds himself fighting for his very existence in a battle that starts with the most frightening words of all…
At thirty-four, Internet entrepreneur Ryan Perry seemed to have the world in his pocket–until the first troubling symptoms appeared out of nowhere. Within days, he's diagnosed with incurable cardiomyopathy and finds himself on the waiting list for a heart transplant; it's his only hope, and it's dwindling fast. Ryan is about to lose it all…his health, his girlfriend, Samantha, and his life.
One year later, Ryan has never felt better. Business is good and there's even a chance of getting Samantha back in his life. Then the unmarked gifts begin to arrive in the mail–a heart pendant, a box of Valentine candy hearts. And, most disturbing of all, a graphic heart surgery video accompanied by a chilling message: Your heart belongs to me.
In a heartbeat, the medical miracle that gave Ryan a second chance at life is about to become a curse worse than death. For Ryan is being stalked by a mysterious woman who feels entitled to everything he has. She's the spitting image of the twenty-eight-year-old donor of the heart beating steadily in Ryan's own chest.
And she's come to take it back.