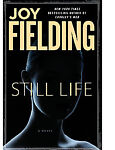 Hardcover:
384 pages
Publisher:
Atria (March 24, 2009)
ISBN-10:
1416585273
ISBN-13:
978-1416585275
Have you ever wanted to be a fly on the wall and listen to what people were saying without their knowledge? Casey Marshall had that opportunity...just not in the way she wanted.
Casey had everything. Boatloads of money, a handsome loving husband, a successful interior design business and lots of friends. Until one day, after having lunch with two girlfriends, she was run down by a hit and run driver and left in a coma. After a few weeks she begins to come out of it, although the only ability she regains is her hearing. For weeks, she lies in her bed listening to the conversations around her and gradually, she learns that not everyone in her life is her friend. She learns who tried to kill her and why, yet she is helpless to do anything about it.
I really had trouble putting this book down. The plot is intriguing and tension filled and the characters were interesting. I was literally on the edge of my seat a lot of the time. Now I remember why I used to read Fielding's books...it's time to get back to reading her more often.
Synopsis
(from the author's website)
Globe and Mail bestselling author Joy Fielding delivers a riveting new tale of suspense, told from the vantage point of a comatose woman.

Beautiful, happily married, and the owner of a successful interior design business, Casey Marshall couldn't be more content with her life until a car slams into her at almost fifty miles an hour, breaking nearly every bone in her body, and plunging her into a coma. Lying in her hospital bed, Casey realizes that although she is unable to see or communicate, she can hear everything. She quickly discovers that her friends aren't necessarily the people she thought them to be–and that her accident might not have been an accident at all. As she struggles to break free from her living death, she begins to wonder if what lies ahead could be even worse.

Smart, suspenseful, and overwhelmingly addictive, Still Life is a novel Fielding's fans won't soon forget.