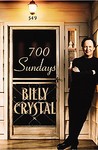 Hardcover:
192 pages
Publisher:
Grand Central Publishing; First Edition edition (October 31, 2005)
ISBN-10:
0446578673
ISBN-13:
978-0446578677
I bought this book because 1) I love Billy Crystal, and 2) I needed something light and entertaining to read on the plane while traveling to Kansas City to visit my mother. 700 Sundays refers to the number of Sundays Billy got to spend with his father before he died. Instead of writing about his many successes as a comedian and actor, Billy concentrates on his early years with his marvelous family. In addition to one line zingers throughout the book, we are introduced to a bunch of colorful characters who never cease to be interesting and downright hilarious. There is his grandmother who said to gravelly voiced Louis Armstrong (to his delight) "Louis, have you ever tried just coughing it up?"; his Uncle Milt Gabler, who started the Commodore music label and recorded Billie Holiday singing "Strange Fruit" when no one else would; and of course, Billy's father, the man who bought his little boy a tape recorder when he announced he wanted to be a comedian and didn't scold him when he repeated off-color borscht belt routines for family gatherings.
We get a glimpse into the lives of a Jewish family in the 50's in all it's hilarity, frustration and grief, but what is most impressive is the love and support this family felt and provided for each other.
Synopsis:
One of America's most beloved entertainers takes us home. Billy Crystal opens the front door to a time in his life when he shared joy, love, music, and laughter with an eccentric family headed by the hardworking father who left them all too soon.
From the story of the Crystal family's proud connection to the New York jazz scene of the '40s and '50s...to the hilarious living room performances that would sow the seeds of Billy's unparalleled career...to the times of tragedy, heartbreak, and his mother's unending courage,
700 Sundays
celebrates the memories, the love, and all the other wonderful gifts parents can give a child.
Based on his Tony Award®-winning play,
700 Sundays
is not the story of Billy Crystal's great career. It is a tribute to a family and the people who helped make him a man. Personal, poignant, and funny, it will have you laughing out loud — and sometimes crying — with the realization that Billy's family is also yours.