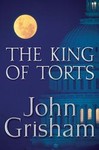 Hardcover
:
376 pages
Publisher:
Doubleday
Feb 2003
Language:
English
ISBN-10:
0385508042
ISBN-13:
9780385508049
In my review about
Grisham's
The Summons, I wrote about a particular character who should have been arrested for a serious crime; I felt the fate of this character was left hanging with no closure for the reader. This character was known as the King of Torts. So when I saw this book, I thought he would probably be featured in it. I was right.
This book, however, was about the
new
King of Torts, J. Clay Carter II, the son of a disgraced DC lawyer, and currently working for the Office of the Public Defender. When Clay is approached by a mysterious stranger who calls himself a fireman, a freelancer who is hired by mega-corporations to put out fires, he is not prepared for what he is being offered. In this case, the corporation is multi-national pharmaceutical company. Seduced by greed and a lust for the big boy toys that millions of dollars can buy, Clay agrees to go along. The millions start pouring in and by the time Clay realizes he's in over his head, it's too late.
As you follow Clay on his roller coaster ride in the world of mass torts, you will go from liking the young dedicated lawyer and pleased that he has become successful, to not liking him at all as he becomes so obsessed with greed, fame and power that he completely loses sight of what is right.
And yes, the original King of Torts is featured, but no, he doesn't get what he deserves. Maybe in a subsequent novel.
Description
(from the author's website)
The office of the public defender is not known as a training ground for bright young litigators. Clay Carter has been there too long and, like most of his colleagues, dreams of a better job in a real firm. When he reluctantly takes the case of a young man charged with a random street killing, he assumes it is just another of the many senseless murders that hit D.C. every week.
As he digs into the background of his client, Clay stumbles on a conspiracy too horrible to believe. He suddenly finds himself in the middle of a complex case against one of the largest pharmaceutical companies in the world, looking at the kind of enormous settlement that would totally change his life—that would make him, almost overnight, the legal profession's newest king of torts…

An excerpt...
THE SHOTS THAT FIRED the bullets that entered Pumpkin's head were heard by no less than eight people. Three instinctively closed their windows, checked their door locks, and withdrew to the safety, or at least the seclusion, of their small apartments. Two others, each with experience in such matters, ran from the vicinity as fast if not faster than the gunman himself. Another, the neighborhood recycling fanatic, was digging through some garbage in search of aluminum cans when he heard the sharp sounds of the daily skirmish, very nearby. He jumped behind a pile of cardboard boxes until the shelling stopped, then eased into the alley where he saw what was left of Pumpkin.
And two saw almost everything. They were sitting on plastic milk crates, at the corner of Georgia and Lamont in front of a liquor store, partially hidden by a parked car so that the gunman, who glanced around briefly before following Pumpkin into the alley, didn't see them. Both would tell the police that they saw the boy with the gun reach into his pocket and pull it out; they saw the gun for sure, a small black pistol. A second later they heard the shots, though they did not actually see Pumpkin take them in the head. Another second, and the boy with the gun darted from the alley and, for some reason, ran straight in their direction. He ran bent at the waist, like a scared dog, guilty as hell. He wore red-and-yellow basketball shoes that seemed five sizes too big and slapped the pavement as he made his getaway.
When he ran by them he was still holding the gun, probably a .38, and he flinched just for a instant when he saw them and realized they had seen too much. For one terrifying second, he seemed to raise the gun as if to eliminate the witnesses, both of whom managed to flip backward from their plastic milk crates and scramble off in a mad flurry of arms and legs. Then he was gone.