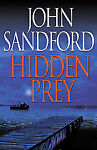 Hardcover
:
352 pages
Language:
English
Publisher:
Putnam Pub Group
May 2004
ISBN-10:
039915180X
ISBN-13:
9780399151804
Hidden Prey begins with the murder of a Russian merchant marine, or so it seems. As this very complex story progresses, it becomes apparent that there is much more to the case. Partnered with a female Russian agent, Lucas Davenport is called in to solve this murder and several others that result in the discovery of a Russian spy ring that has been operating in the Duluth area for 70 years.
Lucas seems to have been toned down in this novel, appearing more mellow since his marriage and subsequent fatherhood. He is still brilliant, however, and maintains his sense of humor. There are some funny lines as Nadya, the Russian agent, struggles to understand American slang.
I didn't feel the ending really tied up the story; there were some loose ends. Perhaps Sandford will tie up those loose ends in his next "Prey" novel. I hope so because I just felt that justice had not really been served.
Description
(from the author's website)
Six months ago, Lucas Davenport tackled his first case as a statewide troubleshooter, and he thought that one was plenty strange enough. But that was before the Russian got killed. On the shore of Lake Superior, a man named Rodion Oleshev is found shot dead, three holes in his head and his heart, and though nobody knows why, everybody – the local cops, the FBI, and the Russians themselves – has a theory. And when it turns out he had very high government connections, that's when it hits the fan.


A Russian cop flies in from Moscow, Davenport flies in from Minneapolis, law enforcement and press types swarm the crime scene – and, in the middle of it all, there is another murder. Is there a relationship between the two? What is the Russian cop hiding from Davenport? Is she – yes, it's a woman – a cop at all? Why was the man shot with fifty-year-old bullets? Before he can find the answers, Davenport will have to follow a trail back to another place, another time, and battle the shadows he discovers there – shadows that turn out to be both very real and very deadly.


Crisp, dynamic, constantly surprising, richly satisfying, once more this is "vintage Sandford."