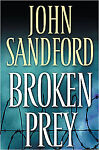 Hardcover
:
390 pages
Language:
English
Publisher:
Penguin Group USA
May 2005
ISBN-10:
0399152725
ISBN-13:
9780399152726
I noted in the previous review that Lucas Davenport has mellowed since becoming a husband and new father, and I have no reason to change that opinion after reading this book. He's a decent guy, but not perfect. However, I kind of miss the edginess he displays in the earlier Prey novels. With that said, this was still an excellent read. No one can devise a complex plot like John
Sandford
and this book was no different.
I would have liked to get to know the victims; they get killed off without us really knowing anything about them. There's no way to really care about the victims as they are almost an afterthought to the story. Yes, Lucas and his cohorts are frantic to find the killer before there are more victims, but the focus is mostly on the cops and the bad guy.
Sandford
introduces some lighter moments, the most entertaining about Davenport's new
iPod
and his quest to compile a list of the 100 best rock songs ever recorded, which every cop on the force gives him suggestions for. The list is at the end of the book and some I agree with and some I don't. The Piano Man by Billy Joel?! I don't think so!
Synopsis
(from the author's website)
Lucas Davenport confronts a living nightmare, in one of the spookiest Prey novels yet from the number-one bestselling author.
"There are reasons why John
Sandford's
Prey series has been so wildly successful, and they begin with our old friends plot and character," praises the
Washington Post
. "But in
Broken Prey
,
Sandford
has outdone himself. He is at the top of his game. You want to know the only thing wrong with this guy? He makes it look easy."
But there is nothing easy about what Lucas Davenport faces now.


The first body is of a young woman, found on a Minneapolis riverbank, her throat cut, her body scourged and put on display. Whoever did this, Lucas knows, is pushed by brain chemistry, there is something wrong with him. This isn't a bad love affair.
The second body is found a week later, in a farmhouse six miles south. Same condition, same display – except this time it is a man. Nothing to link the two murders, nothing to indicate that the killings end here.


"This guy..." Lucas said. He took a deep breath, let it out as a sigh. "This guy is gonna bust our chops."


And soon he is going to do far, far worse than that.


A suspect emerges early: a man recently released from a prison hospital and who now seems to have cut himself free from his court-imposed ankle bracelet and disappeared. But the more Lucas investigates, the more he wonders: Is this really the man? Could he really have done this all by himself? And where has he gone to, anyway?
And meanwhile, a predator waits....