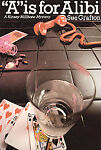 Hardcover:
274 pages
Language:
English
Publisher:
Holt, Rinehart, and Winston
Jan 1982
ISBN-10:
0030590485
ISBN-13:
9780030590481


In the first of Grafton's alphabet series, Kinsey Millhone is an ex-cop turned private investigator who prefers to be alone and will stop at nothing to solve her case. There's nothing soft about her.

Kinsey is hired by Nikki Fife to find out who murdered her thoroughly unlikeable husband, Laurence. Nikki was just released from prison after being found guilty of murdering Laurence. Now she wants her name cleared. Along the way, Kinsey finds love and that there is another murder that is certainly connected. But does her new love interest have something to hide also about the murders? As she struggles to put all the pieces together, she comes to realize that someone out there is trying to stop her from learning the truth.

The plot and characters are well formed and there is enough suspense to keep you guessing and turning the pages. You may be a little bored with the lack of modern technology such as cell phones and laptops, but just remember; this book was written in 1982. I had to keep reminding myself of that every time Kinsey had to use a motel phone or drag out her typewriter.



Synopsis

(from the author's website)

When Laurence Fife was murdered, few mourned his passing. A prominent divorce attorney with a reputation for single-minded ruthlessness on behalf of his clients, Fife was also rumored to be a dedicated philanderer. Plenty of people in the picturesque Southern California town of Santa Teresa had a reason to want him dead. Including, thought the cops, his young and beautiful wife, Nikki. With motive, access, and opportunity, Nikki was their number one suspect. The jury thought so too.
Eight years later and out on parole, Nikki Fife hires Kinsey Millhone to find out who really killed her late husband.
A trail that is eight years cold. A trail that reaches out to enfold a bitter, wealthy, and foul-mouthed old woman and a young boy, born deaf, whose memory cannot be trusted. A trail that leads to a lawyer defensively loyal to a dead partner -- and disarmingly attractive to Millhone; to an ex-wife, brave, lucid, lovely -- and still angry over Fife's betrayal of her; to a not-so-young secretary with too high a salary for too few skills -- and too many debts left owing: The trail twists to include every turn until it finally twists back on itself with a killer cunning enough to get away with murder.