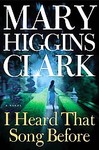 Hardcover:
318 pages
Language:
English
Publisher:
Simon &

Schuster
Apr 2007
ISBN-10:
0743264916
ISBN-13:
9780743264914
When Kay Lansing was six years old, she sneaked into the mansion where her father worked as the landscaper to see the hidden chapel. While there, she overheard a mysterious
conversation
between an unknown man and woman. Twenty-two years later she returned to the mansion to ask the owner, Peter
Carrington
, if he would host a library fundraiser. A month later they were married, even though Peter was under a cloud of suspicion for two murders.
Peter has been a "person of interest" in the murder twenty-two years ago of his neighbor, Susan
Althorp
, and for the more recent drowning death of his wife, Grace. When the District Attorney finally has enough evidence to arrest Peter, Kay begins to realize how important that
conversation
was to Peter's defense.
Written in her usual style, short chapters with cliff hanger endings, this novel doesn't disappoint. The characters are well-defined, with the exception of Peter, who I felt was rather one-dimensional. Although there are quite a few characters, they are easy to follow. The plot is fast paced and suspenseful, keeping me interested and not wanting to put the book down. Any Higgins Clark fan will like this book.
Synopsis
(from the author's website)
Mary Higgins Clark takes you deep into the mysteries of the human mind, where memories may be the most dangerous things of all.
Kay Lansing grew up in
Englewood
, New Jersey, daughter of the landscaper to the wealthy and powerful
Carrington
family. One day,
accompanying
her father to work, six-year-old Kay overhears a quarrel between a man and a woman that ends with the man's caustic response: "I heard that song before." That same evening, young Peter
Carrington
drives the nineteen-year-old daughter of neighbors home from a formal dinner dance at the
Carrington
estate, but she is not in her room the next morning and is never seen or heard from again.
Decades later, a cloud of suspicion hangs over Peter, not only for his neighbor's disappearance but also for the subsequent drowning death of his own pregnant wife in their swimming pool. But when Kay Lansing, now a librarian in Englewood, asks Peter's permission to hold a literary benefit cocktail party on his estate, she comes to see Peter as misunderstood? and when he begins to court her, she falls in love -- and marries him. However, she soon makes a discovery that leads her to question her husband's innocence. She believes that the key to the truth lies in the identities of the man and woman whose quarrel she witnessed as a child. What she does not realize is that uncovering what lies behind these memories may cost Kay her life.