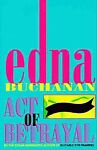 Hardcover:
292 pages
Language:
English
Publisher:
Hyperion Books
Feb 1996
ISBN-10:
0786860987
ISBN-13:
9780786860982
Edna Buchanan is a Pulitzer Prize winning crime reporter. In this novel, she writes of Britt Montero, a half Cuban crime reporter in Miami. Plagued as usual by boyfriend problems, Britt reports about the disappearance of a teen-age boy whose investigation by the police has been almost non-existent. During her investigation, Britt finds that there are many more missing boys who share identical physical traits. They are all white, all blond, all blue-eyed, all unsolved.
Interspersed with the investigation is a personal mystery involving Britt's long dead Cuban father; a diary he kept that could expose a man professing to be a Cuban patriot.
This book has it all; kidnapping, murder, political intrigue, a mother/daughter conflict and a massive hurricane. Britt is tough, smart and likable.
Synopsis:
A fatal bomb blast propels Mimi News police reporter Britt Montero into the story of her life, as deadly secrets and betrayals from the past sweep into Miami on the winds of a killer storm.
More than one evil prowls the sweltering city. When Britt reports the story of a missing teenager, she uncovers a frightening pattern of identical cases. The lost boys could be brother. All look alike: slender, fair-haired, and blue-eyed. All vanished without a trace.
As Britt probes the baffling case, an old mystery reopens personal wounds. Britt has always felt
simpatico
with the father she never knew--who was executed by a Castro firing squad when she was only three--and bewildered by her mother's bitter silence about the man who allowed the dream of a free Cuba to become a fatal obsession. Now, as the Castro regime weakens and falters at last, as intrigue and politicking build to a fever pitch throughout Miami's exile community, Britt meets two men who knew her father well. One aims to become the first president of a free Cuba; the other, an aging freedom fighter, still wars against Castro with hit-and-run guerrilla raids. Both know the shocking secret history of her parents' past. Through them, Britt learns that her father left an explosive prison diary naming the traitor who betrayed him. Rumor says the long-sought diary has now arrived in Miami, in the possession of a rafter, a
balsero
, one of the thousands who risked their lives braving the shark-infested waters of the Florida straits to reach freedom.
Suddenly everyone wants the diary, and everyone who acquires it is marked for murder. As the cold trail of the missing boys heats up and Britt seeks her father's diary in order to find the man responsible for his death, the most destructive hurricane in fifty years bears down on Miami. People flee the Keys, and storm panic spreads as Britt confronts her mother, demanding the long-kept secrets of the past.
Miamians jam the streets and highways to evacuate. Tension mounts as the barometric pressure drips. Just as her father was caught up in the whirlwind of revolution and freedom fighting thirty years earlier, Britt and those around her are caught up by the storm that shatters their lives and changes the face of South Florida forever.
At the height of the storm, as it seems that doomsday has arrived, Britt learns the horrifying truth about the missing boys, her own past and, after more than thirty years, faces the man responsible for her father's death as a betrayal even more devastating is revealed.