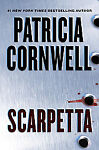 Hardcover
: 500 pages
Publisher:
Putnam Pub Group
Dec 2008
Language:
English

ISBN-10:
0399155163
ISBN-13:
9780399155161



If you asked me if I liked this book I would probably reply, "You tell me...I stayed in bed until noon today so I could finish it". I loved it! But then, I have enjoyed every one of the

Scarpetta

series. Were Dr. Kay

Scarpetta

real, she would be my heroine. Smart, confident, courageous, loyal, but still human enough to be imperfect.

In the previous book, Book of the Dead,

Scarpetta

and her long time partner, Pete

Marino

, had a terrible falling out which ultimately resulted in Pete's disappearance. I wasn't sure if this novel would be as good as all those before it because the dynamics between those two made for very interesting reading. But without giving away any of the plot, I can assure you that it was. Pete returned to

Scarpetta's

life and they were able to move beyond what happened in their past.

If you decide to read this, I would suggest reading Book of the Dead first so you have an insight into the emotions behind their reunion and the actions of those around them.


Synopsis from the author's website:
From America's #1 bestselling crime writers comes the extraordinary new Kay Scarpetta novel.
Leaving behind her private forensic pathology practice in Charleston, South Carolina, Kay Scarpetta accepts an assignment in New York City, where the NYPD has asked her to examine an injured man on Bellevue Hospital's psychiatric prison ward. The handcuffed and chained patient, Oscar Bane, has specifically asked for her, and when she literally has her gloved hands on him, he begins to talk—and the story he has to tell turns out to be one of the most bizarre she has ever heard.
The injuries, he says, were sustained in the course of a murder . . . that he did not commit. Is Bane a criminally insane stalker who has fixed on Scarpetta? Or is his paranoid tale true, and it is he who is being spied on, followed and stalked by the actual killer? The one thing Scarpetta knows for certain is that a woman has been tortured and murdered—and more violent deaths will follow. Gradually, an inexplicable and horrifying truth emerges: Whoever is committing the crimes knows where his prey is at all times. Is it a person, a government? And what is the connection between the victims?
In the days that follow, Scarpetta; her forensic psychologist husband, Benton Wesley; and her niece, Lucy, who has recently formed her own forensic computer investigation firm in New York, will undertake a harrowing chase through cyberspace and the all-too-real streets of the city—an odyssey that will take them at once to places they never knew, and much, much too close to home.
Throughout, Cornwell delivers shocking twists and turns, and the kind of cutting-edge technology that only she can provide. Once again, she proves her exceptional ability to entertain and enthrall.