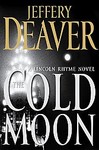 Hardcover
: 416 pages
Publisher :
Simon & Schuster
Language:
English
ISBN :
0743260937 2006-05-30
EAN :
9780743260930
Although this book is one in the Lincoln Rhyme series, it introduces us to Kathryn Dance, the character in a new series by Deaver, beginning with The Sleeping Doll. Thus, the book is listed under the 2009 First in Series challenge.
Kathryn is
is an agent with the California Bureau of Investigation, which is a bit like a state version of the FBI. She's operating out of their fictional Monterey, California, office. A young widow, whose FBI agent husband died several years ago, and the mother of two children,
she's operating out of their fictional Monterey, California office
.


Kathryn's law enforcement specialty is one I find quite fascinating. She's an expert at kinesics (body language) and more broadly in interrogation and interviewing witnesses and suspects.
She is brought into the investigation of a series of gruesome murders in New York City, and although Rhyme is skeptical about her techniques, he eventually forms an alliance with her and asks that she stay to see the investigation through to the end.
Description
(from the author's website)
Lincoln Rhyme returns in The Cold Moon, a roller coaster of a thriller that pits Lincoln and Amelia Sachs against time itself.

On a freezing December night, with a full moon hovering in the black skies over New York City, two people are brutally murdered—their prolonged deaths marked by eerie calling-cards: moon-faced clocks ticking away the victims' last minutes on earth. More murders are planned, and Rhyme and his team have only hours to stop the icy-cold, brilliant Watchmaker, whose obsession with time drives him to plan his carnage with the precision of a fine timepiece. While the cat-and-mouse search for the killer proceeds, Amelia Sachs must balance her efforts to catch the Watchmaker with her job as lead detective on the first homicide case of her own, in which she unearths shocking revelations from the past that threaten to undermine her very relationship with Lincoln Rhyme.

An unlikely ally appears on the scene in the form of California Bureau of Investigation special agent Kathryn Dance, one of the nation's leading experts in interrogation and kinesics—body language. Despite Lincoln's skepticism about witnesses, and her distrust of physical evidence, the two form a curious alliance in the heart-stopping quest to find the Watchmaker.

The rest of the team is present too—tech-minded Mel Cooper, dogged Lon Sellitto, hip Fred Dellray, and the newest addition: rookie Ron Pulaski.

Deaver's lightning-fast prose keeps the two cases racing along in almost real time, with more plot twists and surprises than in any previous book of his, as we realize that the Watchmaker may not be simply a murderous lunatic, but a far more cunning villain than anyone could guess, and the most terrifying and mesmerizing bad guy to ever come from the mind of Jeffery Deaver.

Reviews:
Bestseller Deaver's twisty seventh Lincoln Rhyme novel pits Rhyme, the quadriplegic NYPD detective, against a brilliant criminal mastermind called the Watchmaker. Assisted by his longtime partner, Det. Amelia Sachs, an expert at forensic analysis, Rhyme probes two bizarre murders linked by the killer's calling card—a clock left at the scene. The Watchmaker, as an ominous poem also left at the scene suggests, is bent on executing eight more people in a variety of ways intended to prolong their suffering. Deaver cleverly alternates between the Rhyme/Sachs team and the Watchmaker and his assistant, heightening tension by introducing the next targets and humanizing them. Sachs loses some focus when she also has to probe a suicide that she suspects is connected with some corrupt brother officers. Deaver fans won't be surprised that the investigations overlap, or that the several apparent climaxes are building to something more, but even they will be hard-pressed to peel back all the layers of the cunning plot at work beneath the surface.
— Publishers Weekly