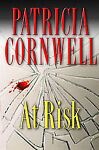 Hardcover
:
211 pages
Language:
English
Publisher:
Putnam Pub Group
May 2006
ISBN-10:
0399153624
ISBN-13:
9780399153624
At Risk is the first novel in the Win Garano series. Win, short for Winston, is an investigator for the District Attorney in Boston. The DA, Monique Lamont, or Money Lamount as Win calls her, has her sights set on the Governor's office and is using Win to help get her there. And he isn't happy about it.
Win is not what you would expect. He's drop dead gorgeous and wears designer clothing he buys in thrift shops. He has a grandmother who gives readings with her tarot cards and sometimes warns him of dangers he may experience while working. He's highly intelligent but couldn't get into college because he freezes up when taking tests and tanked on his SAT's.
The writing in this novel doesn't live up to Cornwell's usual standard. The characters lack depth, the plot was disjointed and there seemed to be little research into the Boston and Cambridge areas.
I am still a huge Cornwell fan and will not let my disappointment in this novel keep me from enjoying her works. All in all, I give this one a "just OK".
Synopsis
(from the author's website)
A Massachusetts state investigator is called home from Knoxville, Tennessee, where he is completing a course at the National Forensic Academy. His boss, the district attorney, attractive but hard-charging, is planning to run for governor, and as a showcase she's planning to use a new crime initiative called At Risk-its motto: "Any crime, any time." In particular, she's been looking for a way to employ cutting-edge DNA technology, and she thinks she's found the perfect subject in an unsolved twenty-year-old murder-in Tennessee. If her office solves the case, it ought to make them all look pretty good, right?
Her investigator is not so sure-not sure about anything to do with this woman, really-but before he can open his mouth, a shocking piece of violence intervenes, an act that shakes up not only both their lives but the lives of everyone around them. It's not a random event. Is it personal? Is it professional? Whatever it is, the implications are very, very bad indeed . . . and they're about to get much worse.
Excerpt:
AN AUTUMN STORM has pounded Cambridge all day and is set to play a violent encore into the night. Lightning sears and thunder startles as Winston Garano ("Win" or "Geronimo" most people call him) strides through the dusk along the eastern border of Harvard Yard.
He has no umbrella. He has no jacket. His Hugo Boss suit and dark hair are dripping wet and pressed flat against him, his Prada shoes soaked and filthy from a false step out of the taxi into a puddle. Of course, the damn taxi driver let him out at the wrong damn address, not at 20 Quincy Street in front of the Harvard Faculty Club but at the Fogg Art Museum, and that was Win's miscalculation, really. When he got into the taxi at Logan International Airport, he happened to tell the driver, Harvard Faculty Club, it's near the Fogg, thought maybe if he referenced both he might sound like someone who went to Harvard or collects fine art instead of what he is, an investigator with the Massachusetts State Police who applied to Harvard seventeen years ago and didn't get in.
Big raindrops feel like irritable fingers tapping the top of his head and he is overcome by anxiety as he stands on the old red-brick walk in the midst of the old red-brick Yard, looking up and down Quincy Street, watching people spew past in cars and on bicycles, a few on foot and hunched under umbrellas. Privileged people move through the rain and mist, belonging here and knowing they do and where they are going.
"Excuse me," Win says to a guy in a black windbreaker and baggy, faded jeans. "Your Mensa question for the day."
"Huh " He scowls, having just crossed the wet one-way street, a soggy satchel dripping from his back.
"Where's the faculty club "
"Right there," he replies with unnecessary snottiness, probably because if Win were a faculty member or anyone important, obviously he would know where the faculty club is.
He heads toward a handsome Georgian Revival building with a gray slate roof, the brick patio blossoming with wet, white umbrellas. Lighted windows are warm in the gathering darkness, and the quiet splashing of a fountain blends with the sounds of the rain as he follows slick cobblestones to the front door, running his fingers through his wet hair. Inside, he looks around as if he's just entered a crime scene, taking in his surroundings, making judgments about what must have been a parlor for some wealthy aristocrat more than a century ago. He surveys mahogany paneling, Persian rugs, brass chandeliers, Victorian theater broadsheets, oil portraits and polished old stairs that lead somewhere he'll probably never go.